We just came from our autumn break in the rough, wild and beautiful Scotland. It was a 17 days camping trip when we drove almost trough all the mainland Scotland plus the magnificent Isle of Skye. Lakes, sheep, mud, wind and amazing views everywhere are the synonyms that describe well this country. This is our Scotland travel summary that might help you to organize your next trip to Scotland.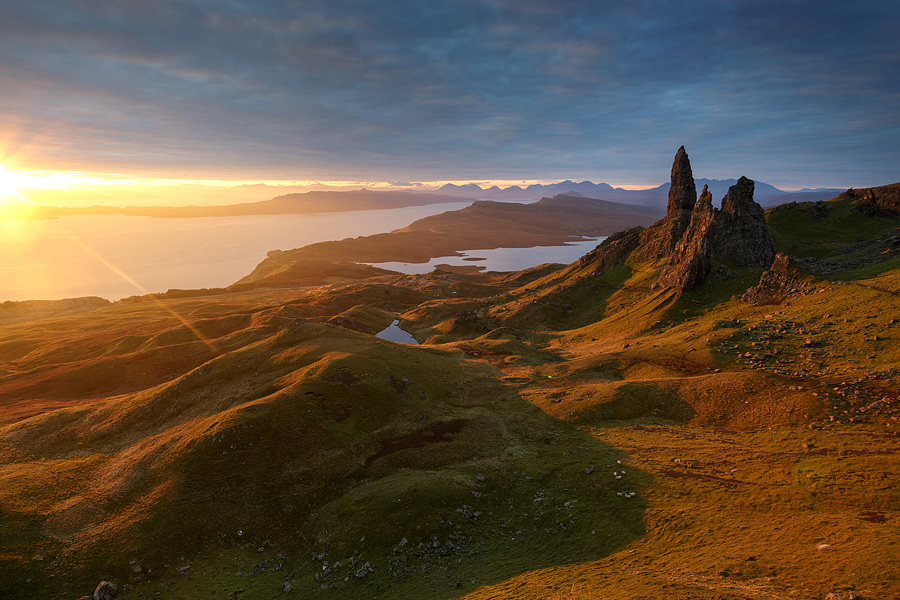 Why we chose the end of October to visit it? Because of all the autumn foliage that make the nature even more appealing, because at this time the problem with midgets that bite in summer months is already gone and because we heard that that's the most beautiful part of the year to come there. And you know what? After this trip we think there is no better time to be there.
We traveled around with a campervan and did some wild camping on the most amazing places. Is there a better place to wake up than up on the cliff, surrounded with sheep that graze on the grass around the car and having breakfast with a view over a nice sandy beach where seals are playing at the same time? Or watching the sun illuminate one of the most beautiful castles in the middle of a lake – right from your bed? Ah, how we love wild camping!
Beside this we stayed of course also in camping parks and we even pampered ourselves a couple of times in fairytale glamping retreats.
Scotland impressed us with it's rough beauty, unspoiled nature, cute little towns and villages and very nice people. Our youngest one really enjoyed playing on those carribean-like beaches, pools and waterfalls, watching all the animals (from seals to highland cattle and so much in between!) and staring for hours to the surface of Loch Ness and have the imagination turned on 100% to spot the famous Nessie monster.
You can have a look at our Scotland itinerary, and here are just couple of practical information that you might find useful:
WHAT TO VISIT
The areas that did the greatest impression on us were the Isle of Skye, Glen Coe, the Northern Highlands and Cairngorms national Park. They are very diverse and have spectacular landscape.
WHAT TO BRING
– hiking boots are obligatory, beacause everything is muddy and you may be hiking or walking through ancient ruins and castles,
– if you are going to go off the main paths, think of bringing rubber boots too as the surface is very boggy,
– don't come without a wind (and water) proof jacket! Consider to bring a pair of waterproof pants as well, as the weather is very unpredictable,
– remember to wear layers! It can be rain, wind and sunshine in a matter of 15 minutes!
– an umbrella will usually not be very useful as the rain comes from all directions because of the wind. A poncho instead can be very handy :),
AVOID MIDGES
If going in the summer or late spring, be sure to check your itinerary as midges love bogs, long grass, bracken, thin woodland. The West part gets a lot of those nasty insects, but towns are unlikely to be much of a problem.
ACCOMMODATION
– campsites are usually very clean and well mantained, so camping is a great option for traveling in Scotland if you want to save some money,
– you can find lovely and really unique places to sleep for around 60 £,
– it's allowed to wild camp troughout Scotland.
TRANSPORT
Best way to travel is by car. We had a campervan which did just great! It's not so high as regular campers and you can go everywhere normal cars can go.
When you will be doing plans for your next autumn holiday, think of Scotland! There's something for everyone in the family – beautiful easy hikes, impressive castles, waterfalls, great beaches, rich history and so much more.
Pin it!
Related posts: